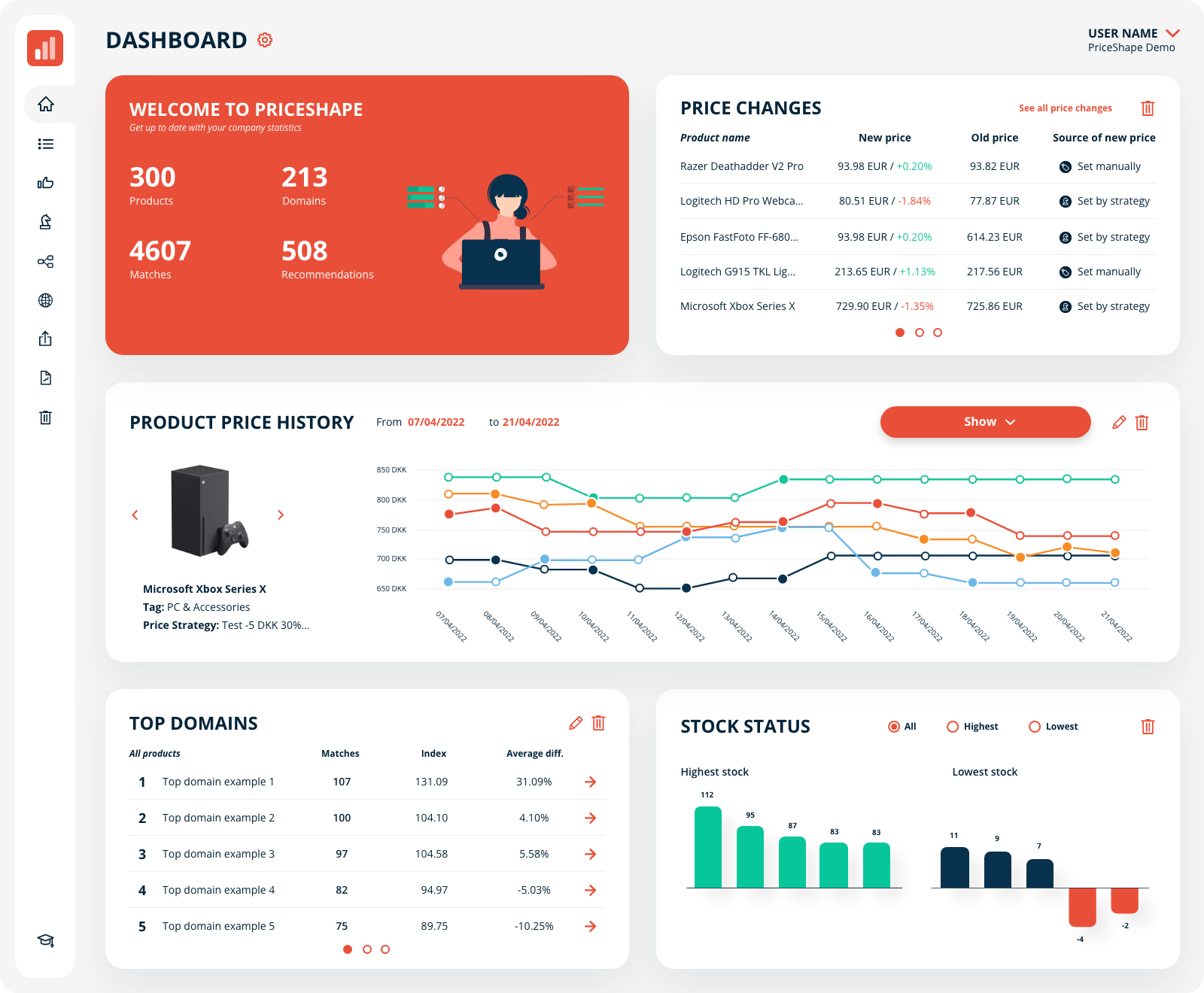 Advanced Product Management
The big picture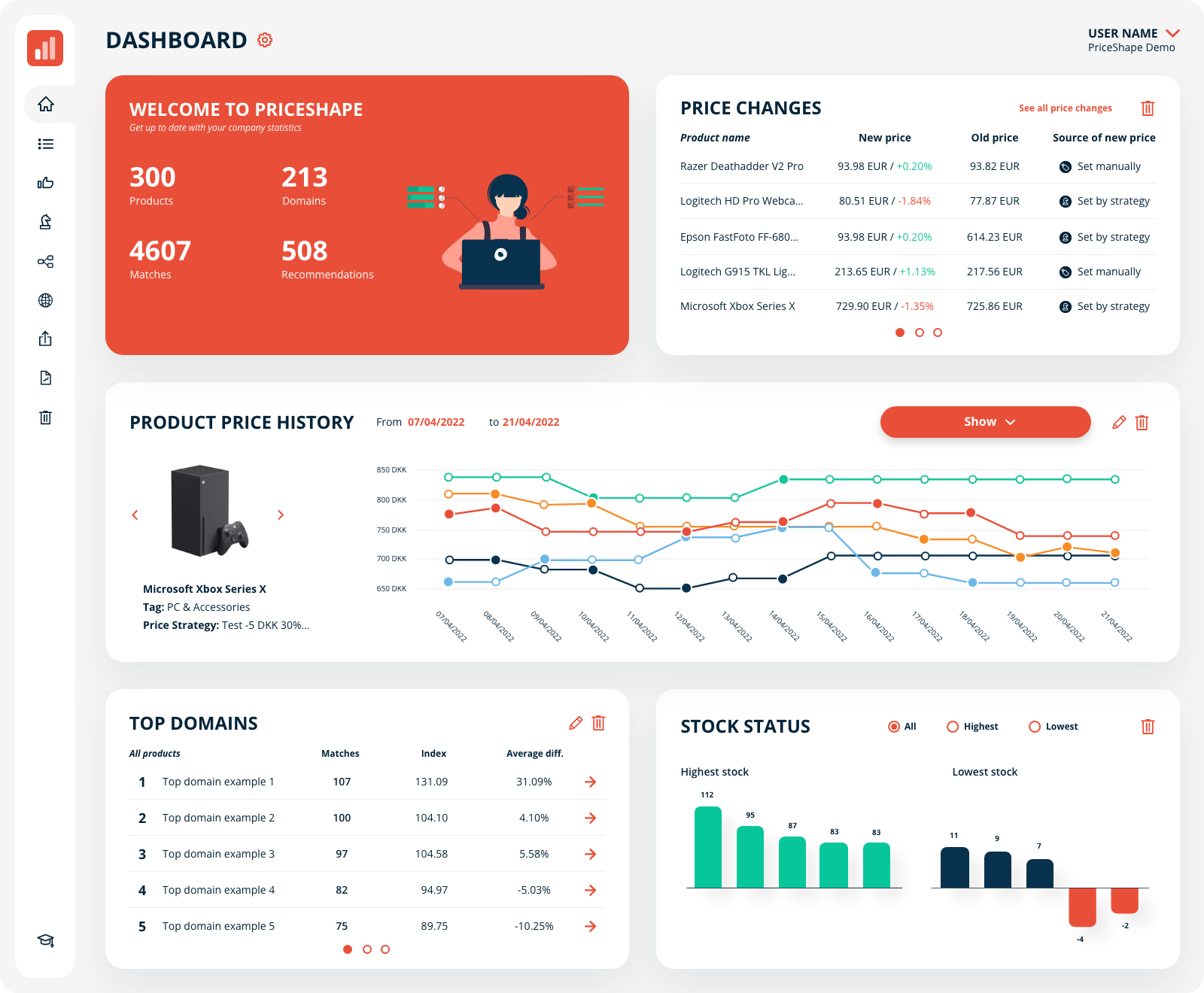 Imagine you had the possibility to oversee the full market picture in one view, understanding product price history, our price position and index rating compared to your main competitors. Imagine the insights and possibilities to make strategic product decisions within a few minutes based on those data. How much value would that add to the way you are working?
In PriceShape, we deliver that view in a personalized dashboard where you can see:
Overview of your top competitors
The price history for specific products
Your price position in the market compared to your competitors, f.x. on brand or product level
Stock status
Recent price changes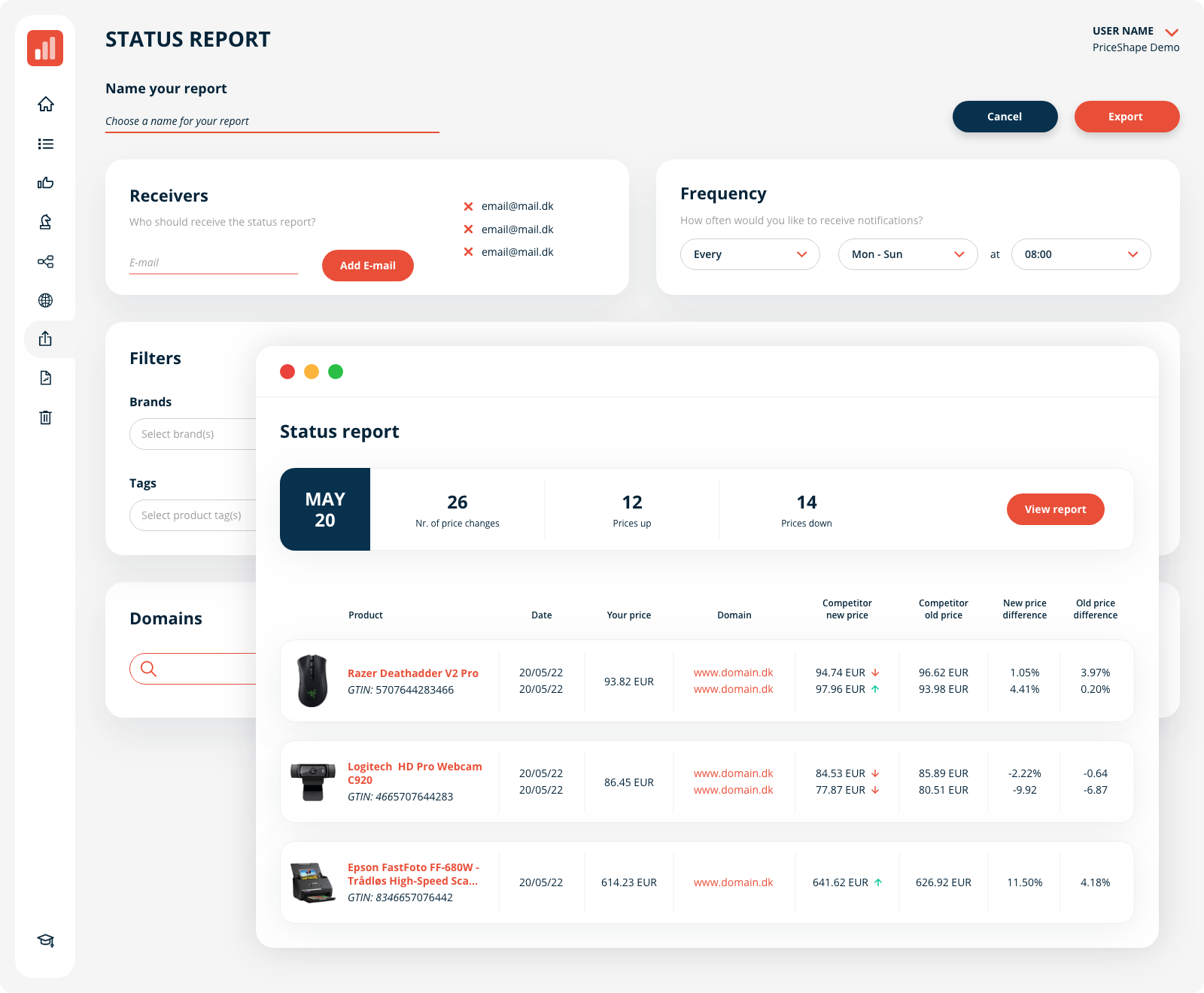 Advanced Product Management
Easy & quick reporting on all levels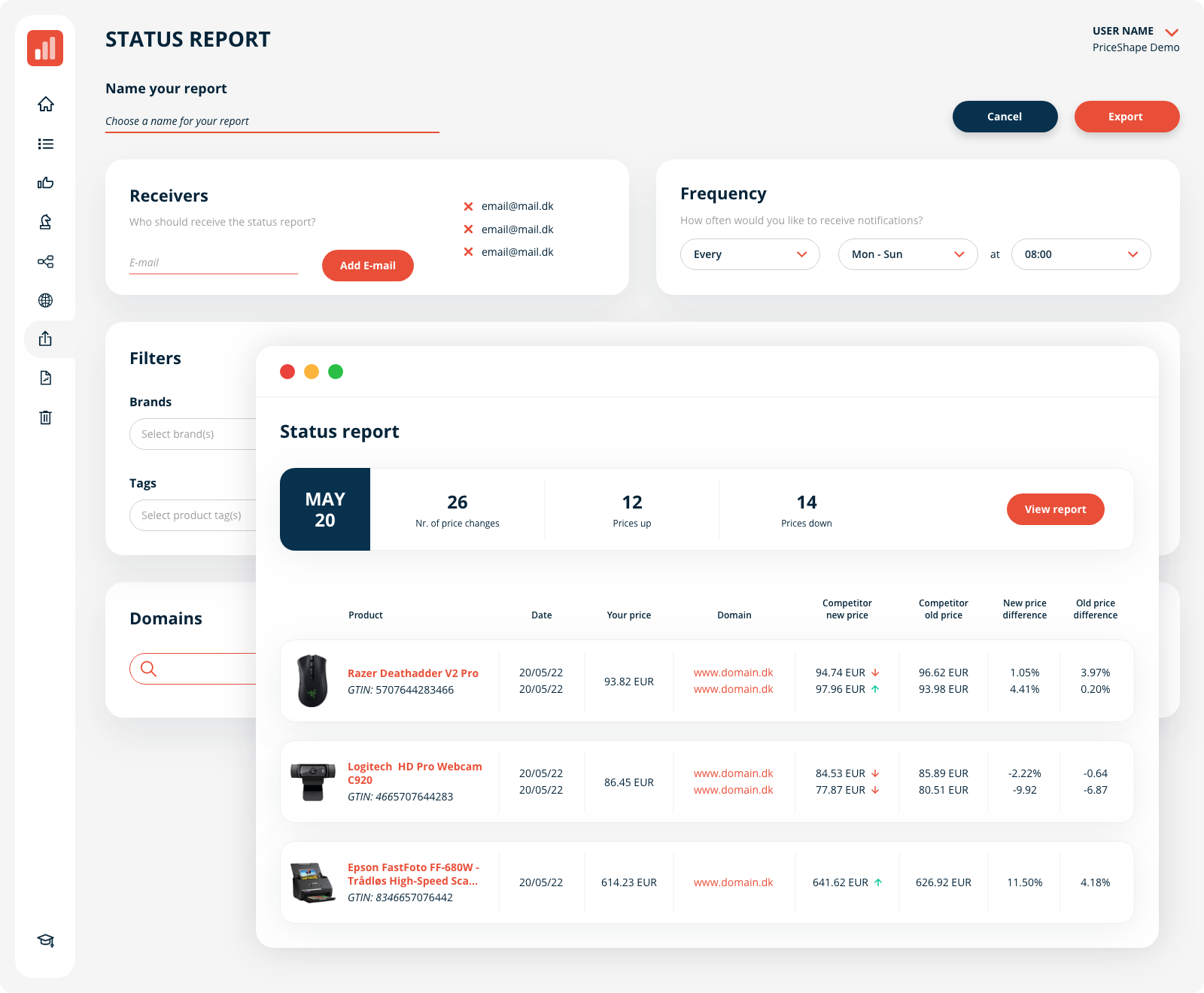 Imagine receiving an updated market report via email every morning to enjoy with a cup of coffee. Our status reports will provide you with intel regarding price changes in the market segment in the groups of products you need, e.g. brands, product types, A-products, the products you are responsible for, or products that are moving slowly in terms of selling.
With a report in your inbox every morning, you will be able to analyze trends and take fast decisions regarding your products and their pricing. The reports will also be used as a valid foundation for pointing out the direction of your brand and price position to win the market.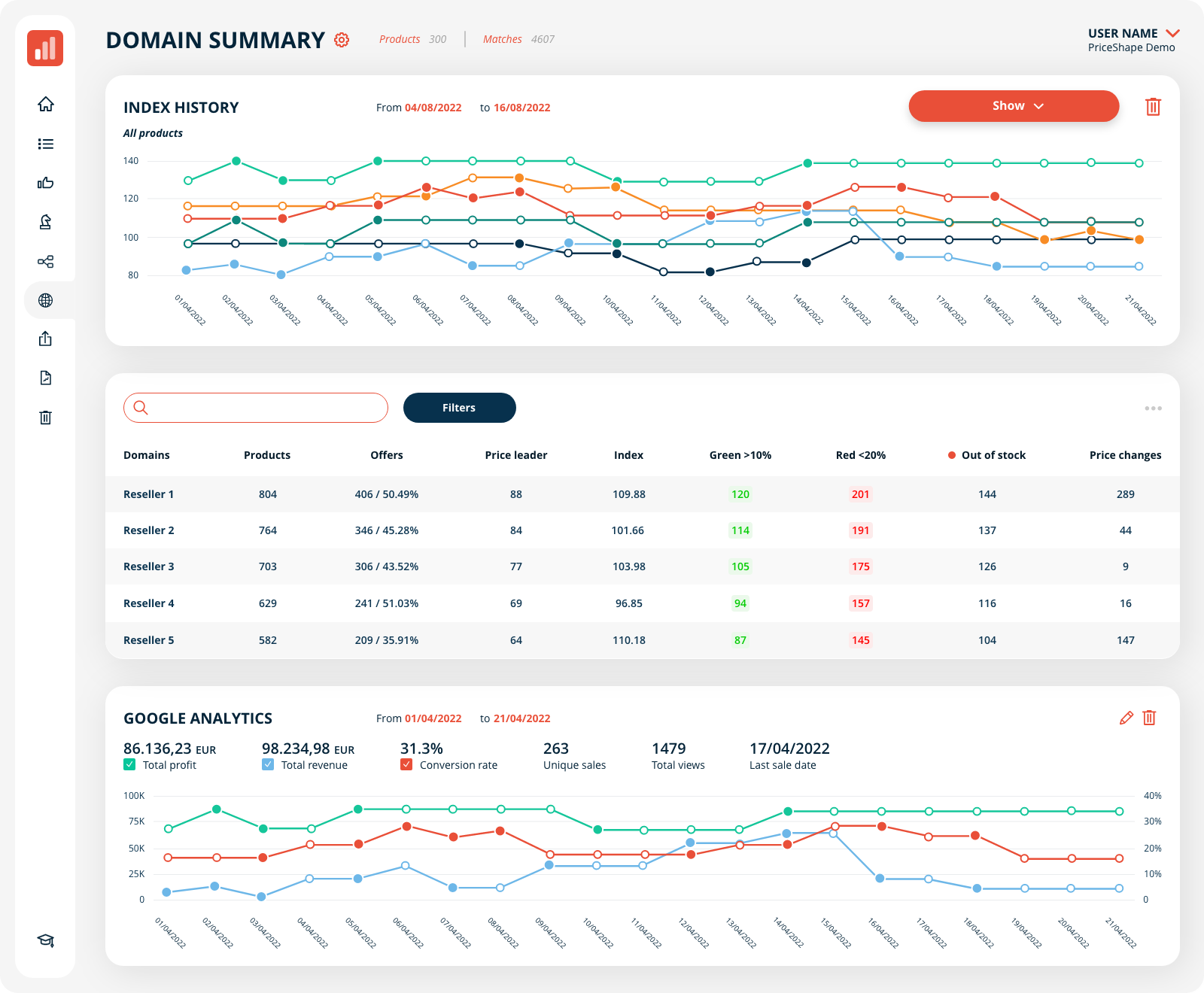 Advanced Product Management
Make home-run supplier agreements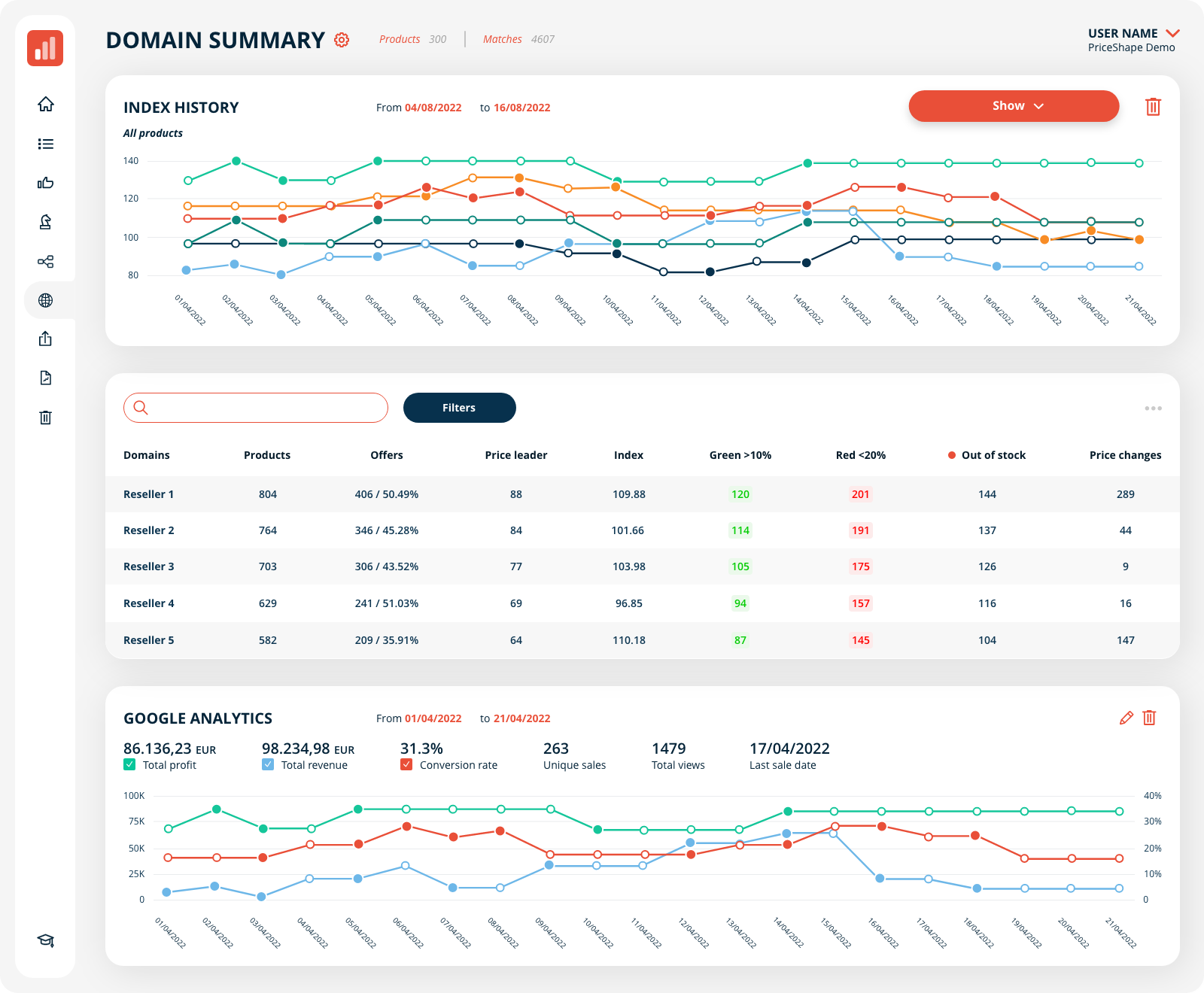 Knowledge is key. With market insights, performance data and price history, you will have the upper-hand when it comes to negotiating with your suppliers.
Clear information regarding competitors' assortment, stock status, and daily pricing, compared to your prices, will let you know when a competitor is trying to push the market and how far you would be able to go down in price before a call to the supplier can be made for a better agreement or talk regarding future possibilities for compatible prices.
By understanding the price position of your competitors with the same products as you, while getting a better cost price - you can price position yourself more competitively. And you'll have an easy understanding of what to purchase based on your price and profit.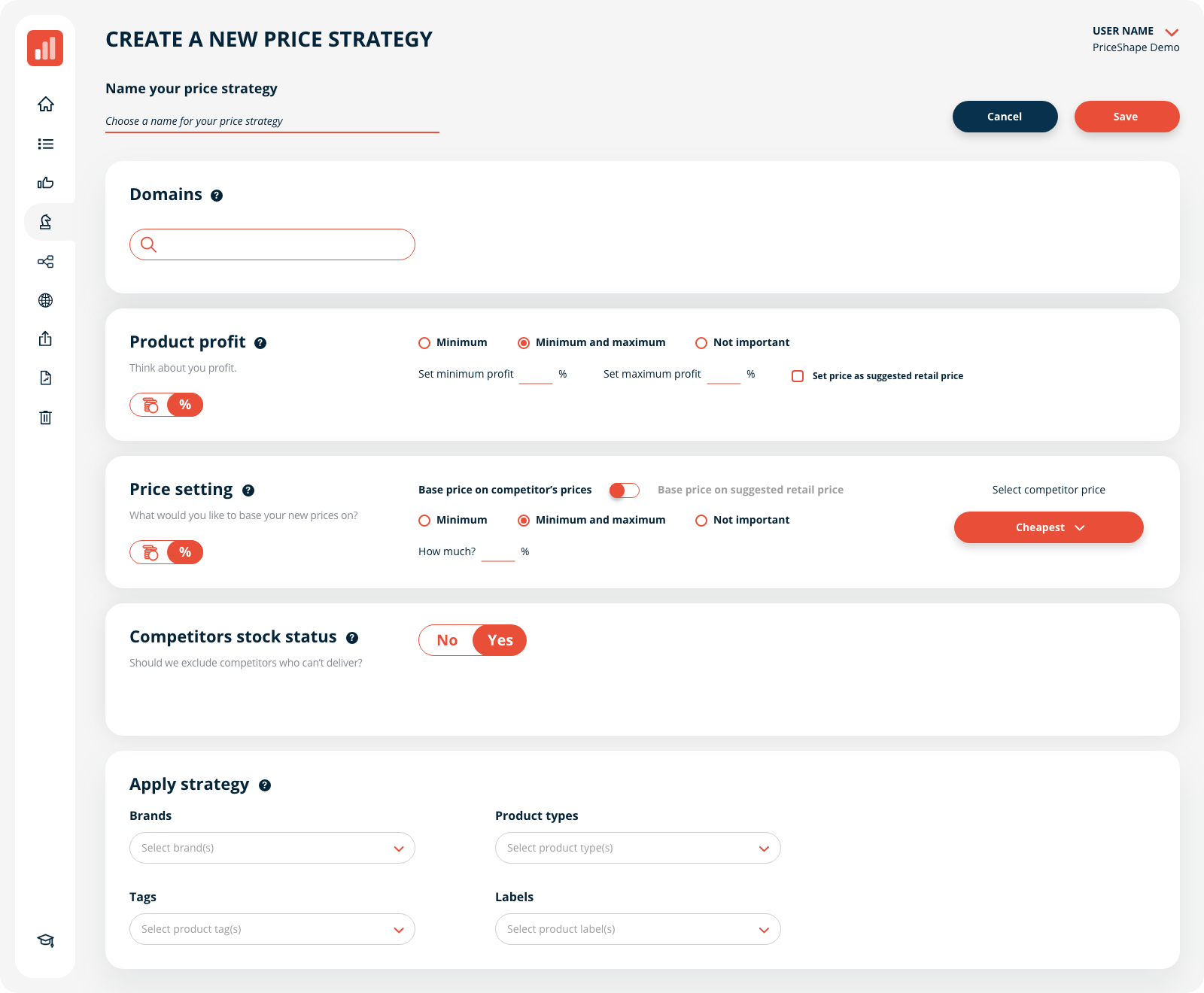 Advanced Product Management
Setting competitive prices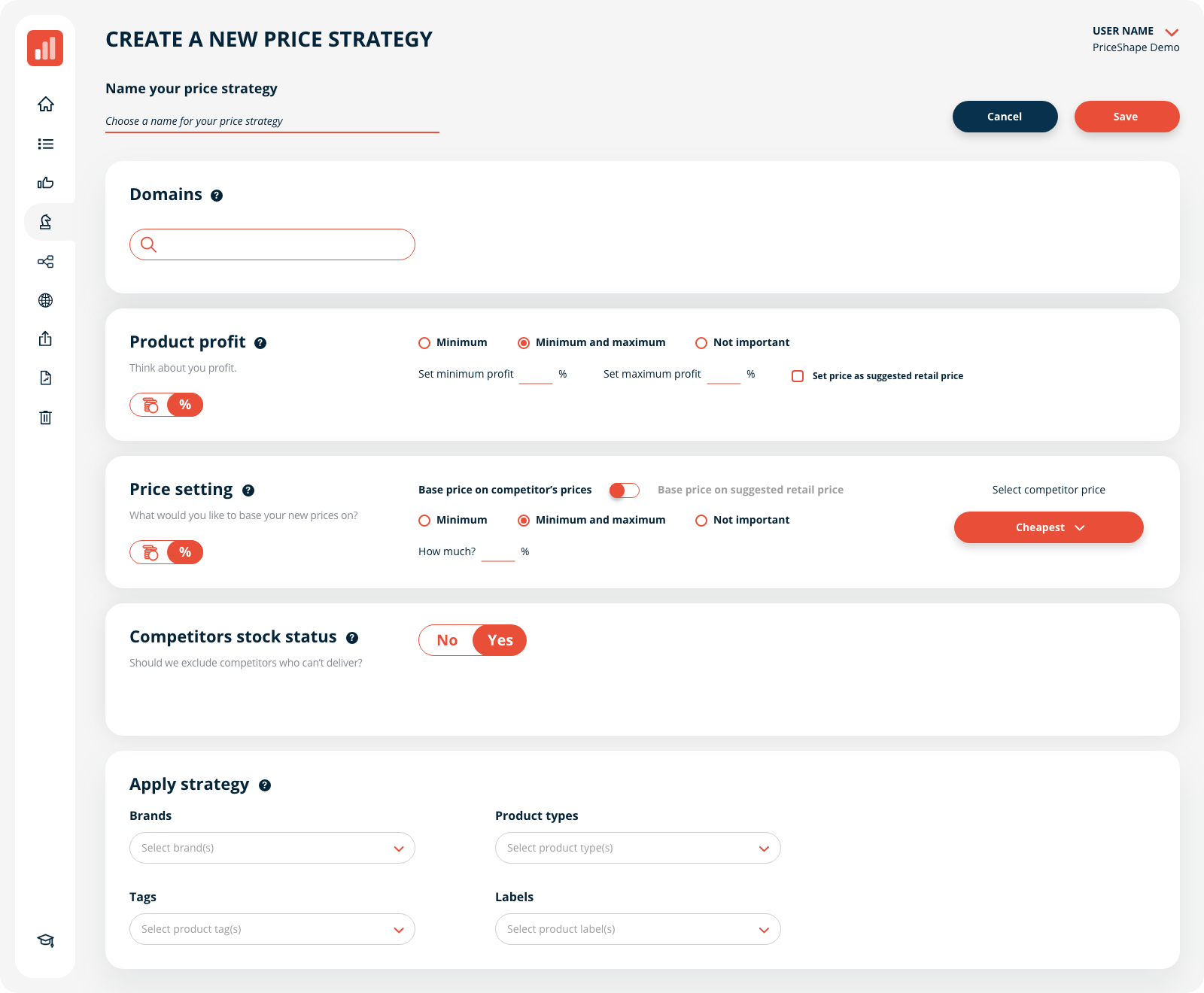 Have you ever based a price on gut feeling because you thought it was the right one?
Why not use the market insights advanced rules and our automated dynamic pricing to make sure, that you ALWAYS have the "right" price to fulfill your need for profit and win the market with the best possible price?
With competitive prices, you can rest assure that your products are as competitive as they need to be, and also allowing you to secure profit. It is not just about being the cheapest but being the smartest, combining insights with performance and internal rules to set the right price on the right products, every day, every time!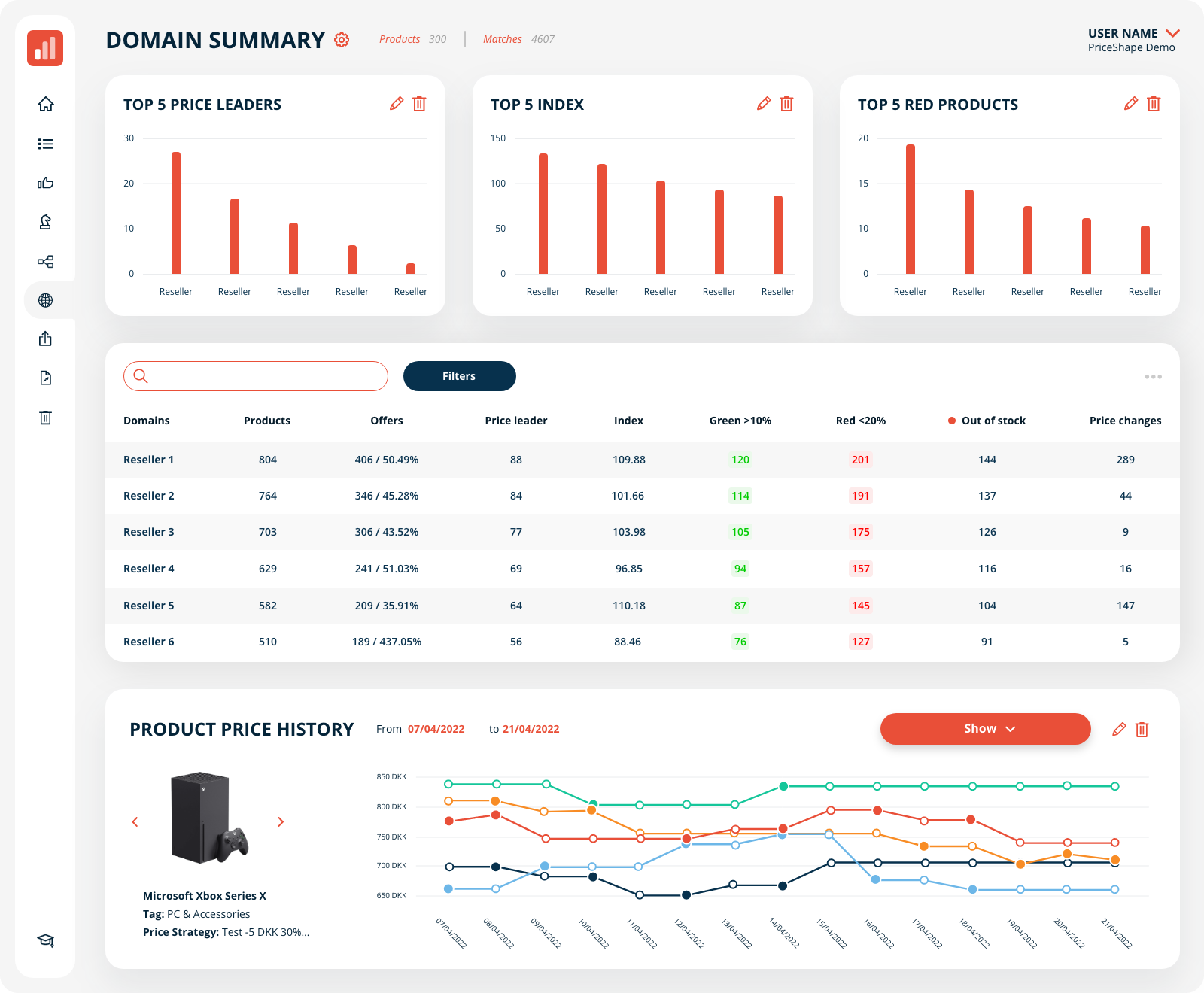 Category management
Use knowledge from today to be the best tomorrow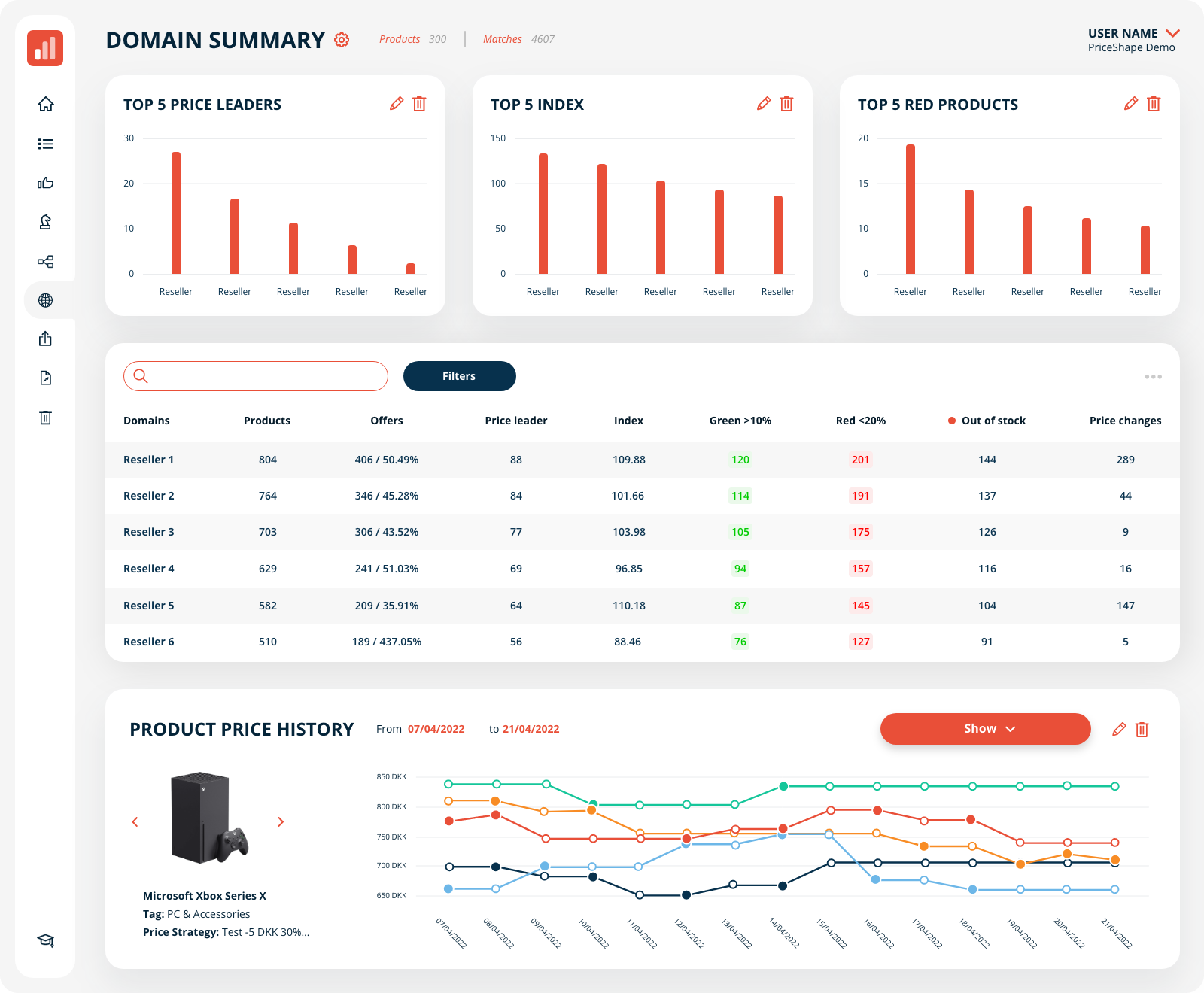 With historical data, you can analyze and plan your top seasonal offers. With Priceshape gathering and storing all price information in the market, you will be able to go back in time and use that insight to e.g. plan your coming Black Friday campaigns.
When did your competitors change prices last year, and with what percentage - Take the situation into your own hands and win the market every time!
You'll also be able to get access to index numbers on your competitors, stock status, where they are cheaper or more expensive than you.
Newsletter
Stay up to date with PriceShape's newsletter
You can expect lots of cool content and updates in our newsletter, such as free webinars and blogs. We strive to share our knowledge and inform people about pricing and trends in the world of e-commerce.