5 strategies that strengthens your competitive position
2020 was the year that forced us to shop online because of closed stores and lay-offs; learn how stores changed their business model to survive
The consumption in the Danish online shops increased by 15%, and now since Corona arrived, 70% of the Danish population do online shopping every month.
It's easier than ever to compare prices and get the best deal on a product because of Google Shopping and PriceRunner. The consumer can set up a price alarm with ease, so he/she gets a notification when your preferred product has got the right price.
Yes, you're right. To the modern consumer, e-commerce seems almost like some kind of dealing in shares with graphs of prices and deep insight into the movement of market-based pricing.
However, you should not just look at the price as if it is the only factor. The e-commerce analysis from Danish Business Association shows that prices count for 23% of the reasons behind consumers' online shopping instead of traditional shopping in physical stores. But it does not explain to which extent the price affects the purchase decision, and it's actually in that exact moment when the consumer has chosen his or her product that it's highly possible to win the sale with the right price.
It's not about the "lowest" price as much it's about the "right" price
To price your products the right way is not just about being the cheapest to win the sale. If your competitors sell a product for 67 euros, and you sell it for 47 euros, you're potentially missing a lot of your turnover and ultimately profit, too.
If you're setting your product price to 60 euros, then you would still be the cheapest in the market while owning 13 euros and more on each sale. If your competitor begins matching your offer or sells to a lower price, you can lower your planned offer prices.
It's not always just about a big discount regarding the preferences of the consumer. Finding a "better" price than the one you considered before gives you a feeling of getting a good deal, and it even releases some dopamine in the brain.
Stock status is more important than price
The biggest and most important competitive factor is that your product is actually in stock, but many webshops forget that. It doesn't matter if your competitor is selling the product cheaper than yours as long as it is not in stock.
After Christmas in 2020, we saw an example with the product Oculus Quest 2 where many online shops made use of the possibility of selling the product to a higher price than the sale price because the stock status was low on all Danish webshops.
This is why you should apply price monitoring software that informs you about the price and the stock status of your competitors. And more important, if you're the only trader with a product in stock, then don't lower the product's price.
The right price is exactly that price that your customer is willing to pay. It is supply/demand, and your competitors' stock status is just exactly that supply that they have to relate to and base their choice on.
The cost price is your superpower
It sounds silly, but it is still true. Only a few online shops have thought of their cost price as a part of their price strategy.
When you experience that a competitor has better prices than you have, they usually have better cost prices. By buying larger amounts of products and negotiating better with your suppliers, you can get better cost prices, and you should know which products and brands are negotiated to the best cost prices.
With the brands and categories that you sell most of in your shop, you will typically also have the opportunity to get a better purchase price, and you need to take advantage of the chance to be competitive on the price here.
Don't compromise your pricing strategy. Set a goal about how much margin there must be, at least between your cost price and offer price, and make sure to adhere to the limit.
Too many online shops just come up with a price on a product on sale without actually calculating what the product should cost for them to make money. That's a huge mistake.
Save money by linking your pricing data with your advertising
If you monitor prices and know when you are the price leading part, whether you are price matching or a lot more expensive than the competition, you can save a lot of money.
It is not uncommon for both CPC and CPM prices to rise over time on various advertising platforms, and therefore we must constantly optimize our advertising.
One of the best ways to optimize is to "cut off all the poor stuff". That is, save money on those clicks that will never lead to a sale anyway.
For example, you can enrich your product feed with a custom label that tells you your price position on individual products. Here you pause advertising for the products where you are significantly more expensive than the competitors. At the same time, you can focus on using your advertising spend on those products where you have a good price and good stock status.
Get it all together in a dynamic pricing strategy
When your business is ripe for it, you can gather all your smart solutions in a dynamic pricing strategy. With a dynamic pricing strategy, the prices on your online shop will automatically change based on your advanced rules.
The rules can take into account your prices, your competitors' prices, your and their stock status, your cost price, and much more. All this means that you can continuously ensure that you have the right price every day concerning the fluctuating market.
Once your pricing is automated, you can save time in the department and instead focus on optimizing your advertising, purchasing the right products, or sending the next newsletter.
Bonus
When you have 100% control over your pricing, and if you have maybe even automated it, you can use it as a competitive advantage in your market.
Below you see an example from Sportmaster, which runs a "live price" concept, where selected items have dynamic prices, which tells the consumer that the price changes live to ensure the best price.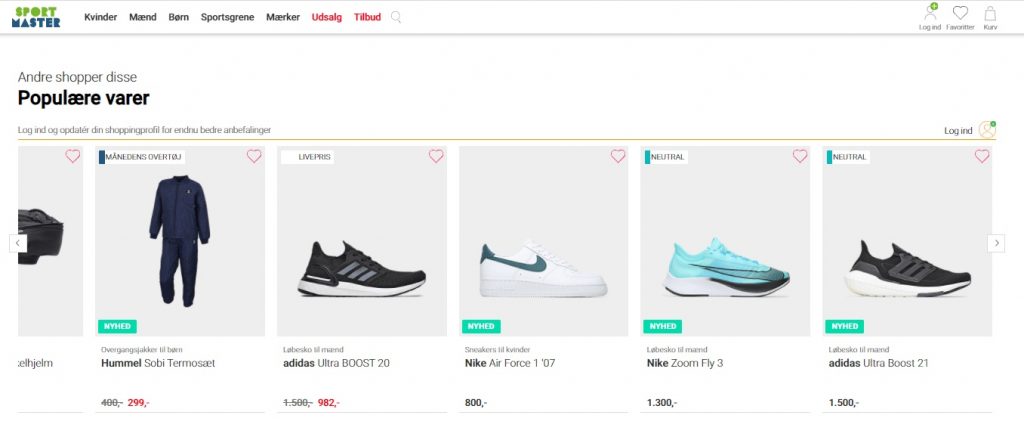 In this way, your new pricing strategy can directly strengthen your sales, and at the same time, it gives your customers a feeling that you are offering them the best price on your products.
About the writer and No Zebra
Asger Storebjerg is Head of Paid Media & Products at No Zebra. We use PriceShape across several customers because our data shows that the conversion rate often increases by a factor of 2-4 when we hit the right price.
We help many Danish online shops grow both in Denmark and abroad, and it is crucial for their scaling to ensure the right prices through a data-driven approach rather than gut feelings.
Our customers also include several brand owners who use PriceShape as a tool to monitor their retailers' stock status and pricing to ensure that their brand is not devalued through excessive pricing. At the same time, the tool shows if their retailers have their products in stock. Read more about No Zebra here: www.nozebra.dk