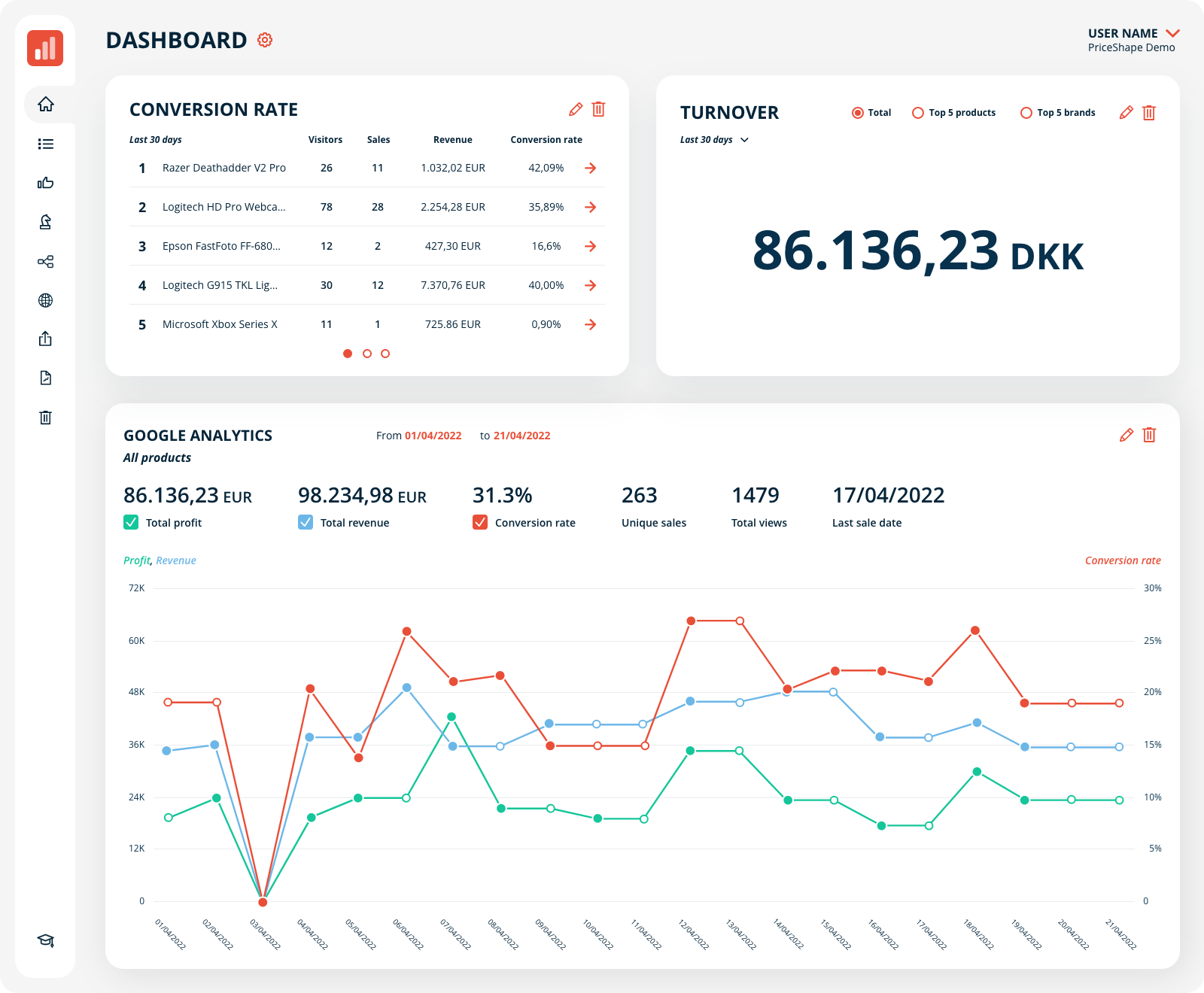 Performance insights
Take a deep dive for optimization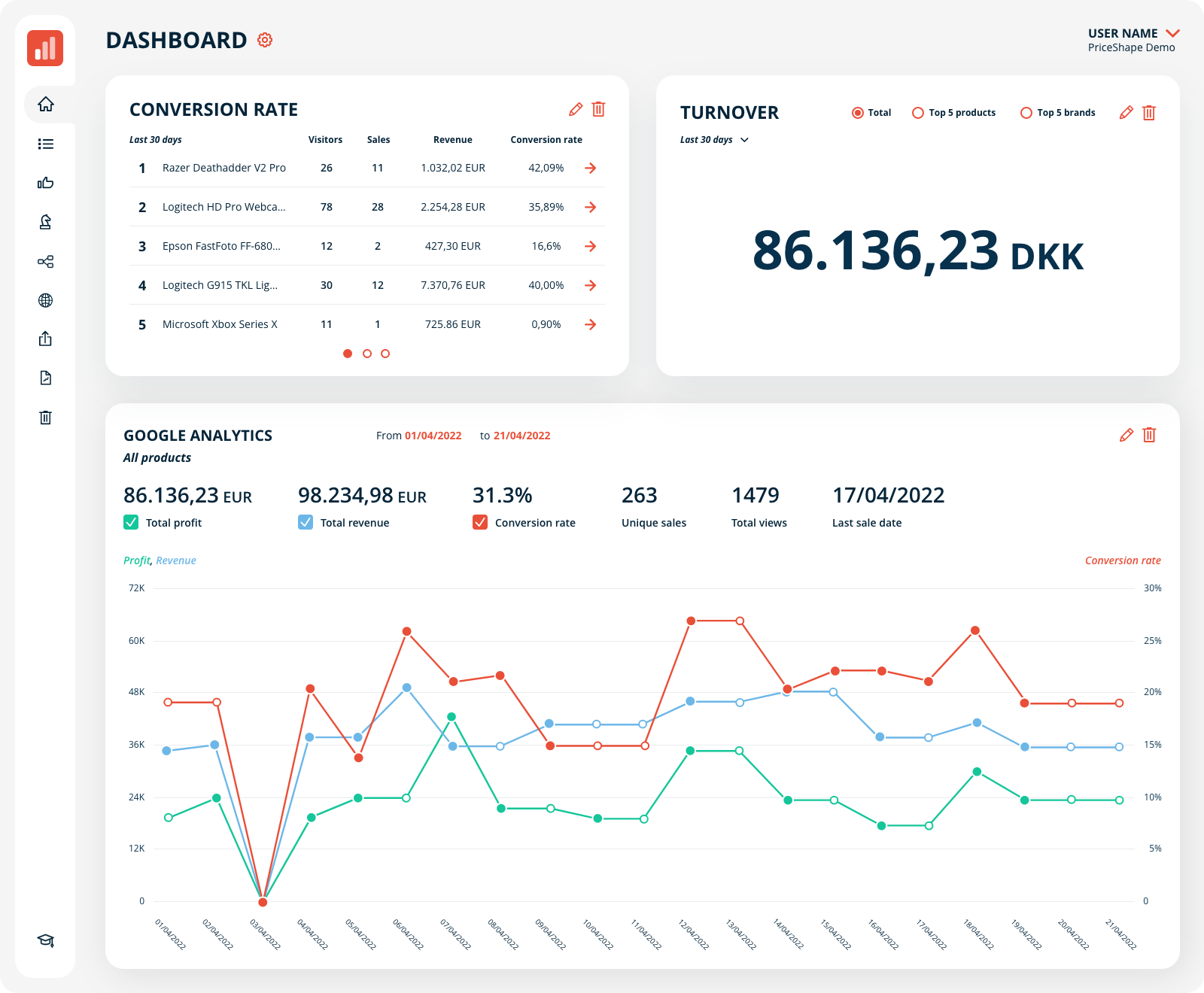 Knowledge is key for every role in your company when discussing the pricing of the products. Imagine that you, instead of setting prices based on guts and factor calculations, where to set prices based on specific trends, market demands, and competitive position.
What if you were to see the impact directly once prices are changed? When integrating PriceShape with your Google Analytics, you would be able to see, analyze and take action on how your products are performing, displaying numbers significant from a Product Management Perspective:
Profit
Revenue
Conversion
Number of visitors
Number of sales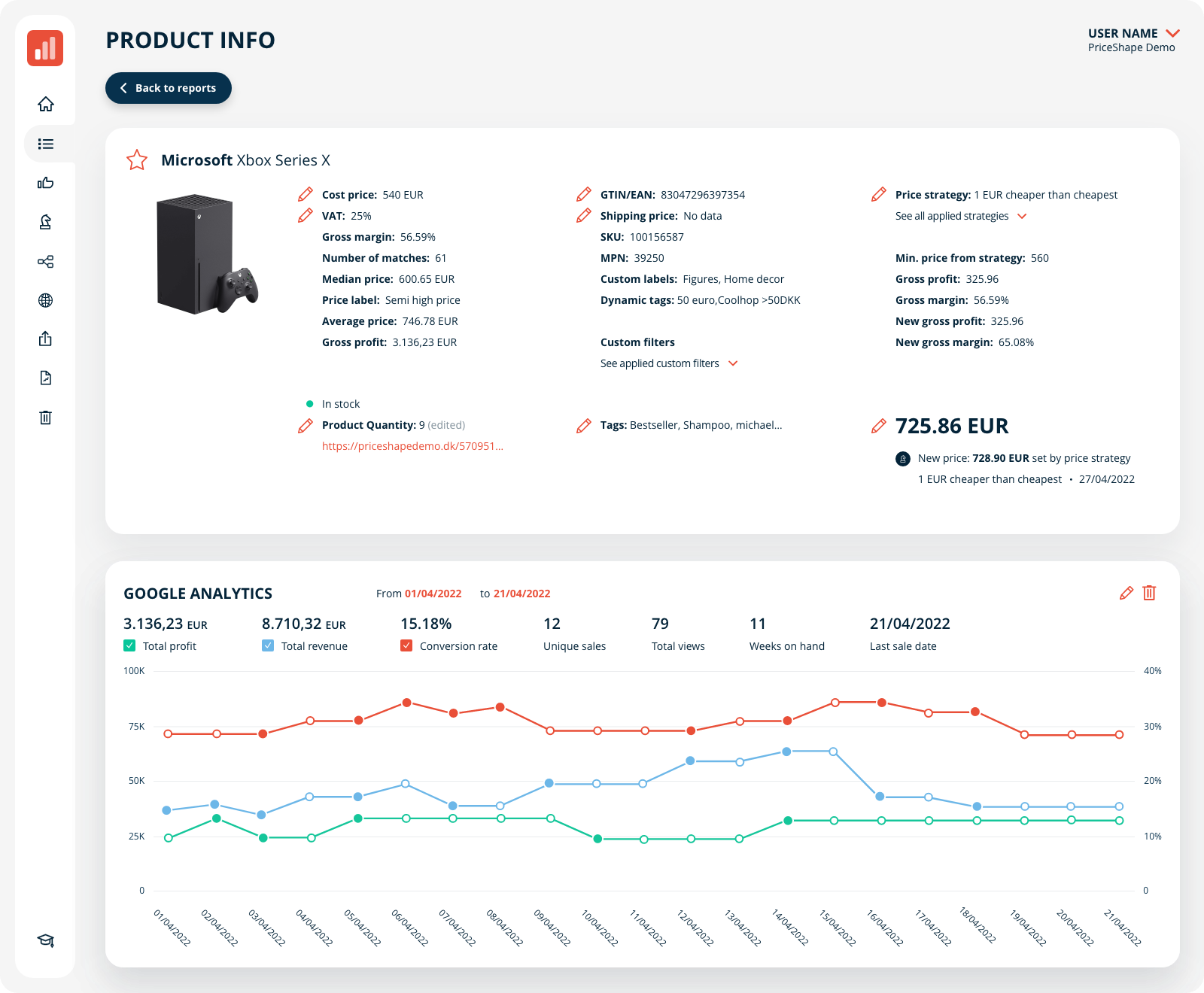 Performance Insight
Keep on top of your products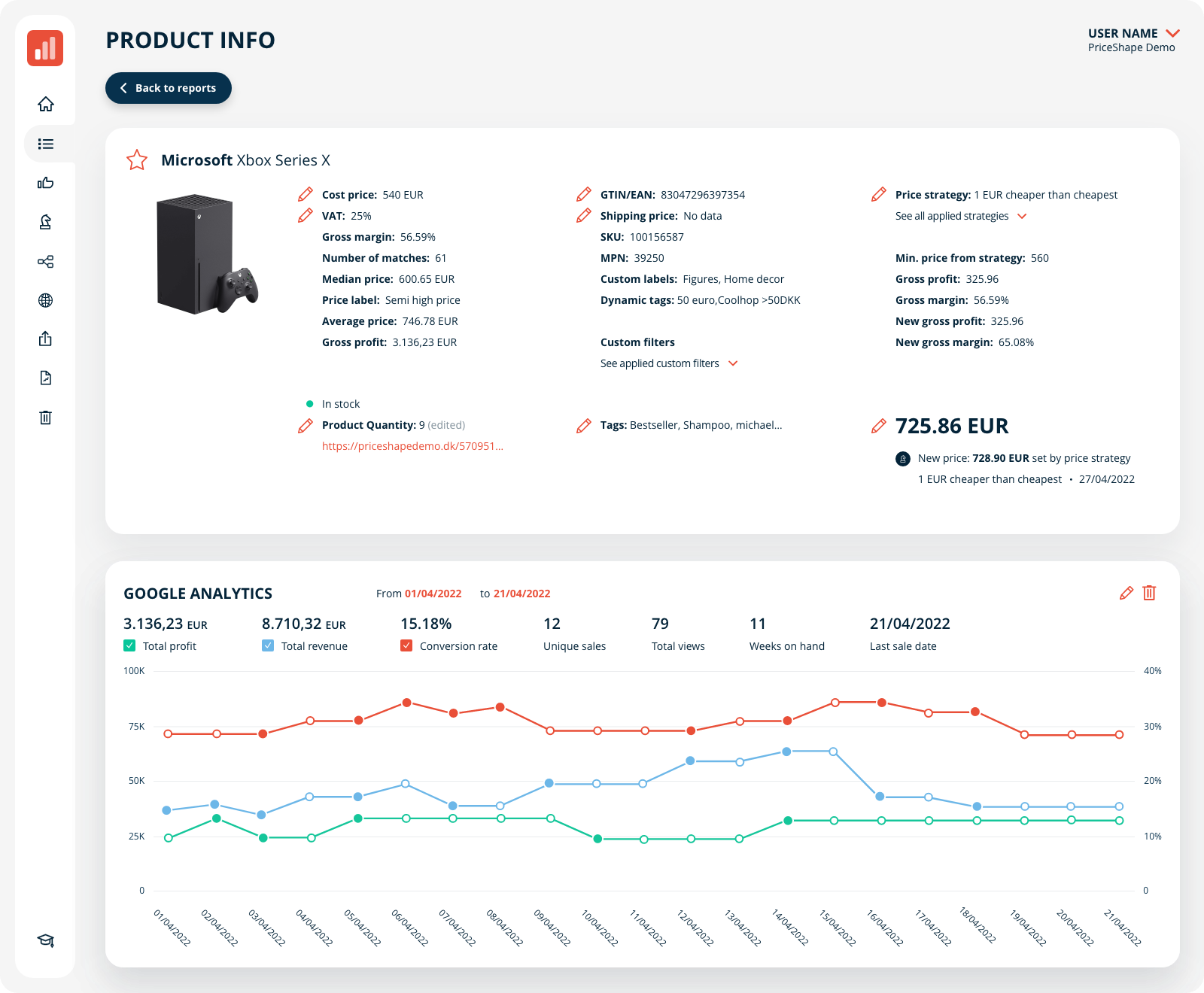 Being observant of your own performance is valuable, but the true value arises once you start taking further actions on these insights. Imagine being able to do this automatically?
PriceShape will automatically provide you with intel on when your products are expected to run out of stock based on your performance data and stock status. You'll never run out of your bestselling products and will be notified when time is due.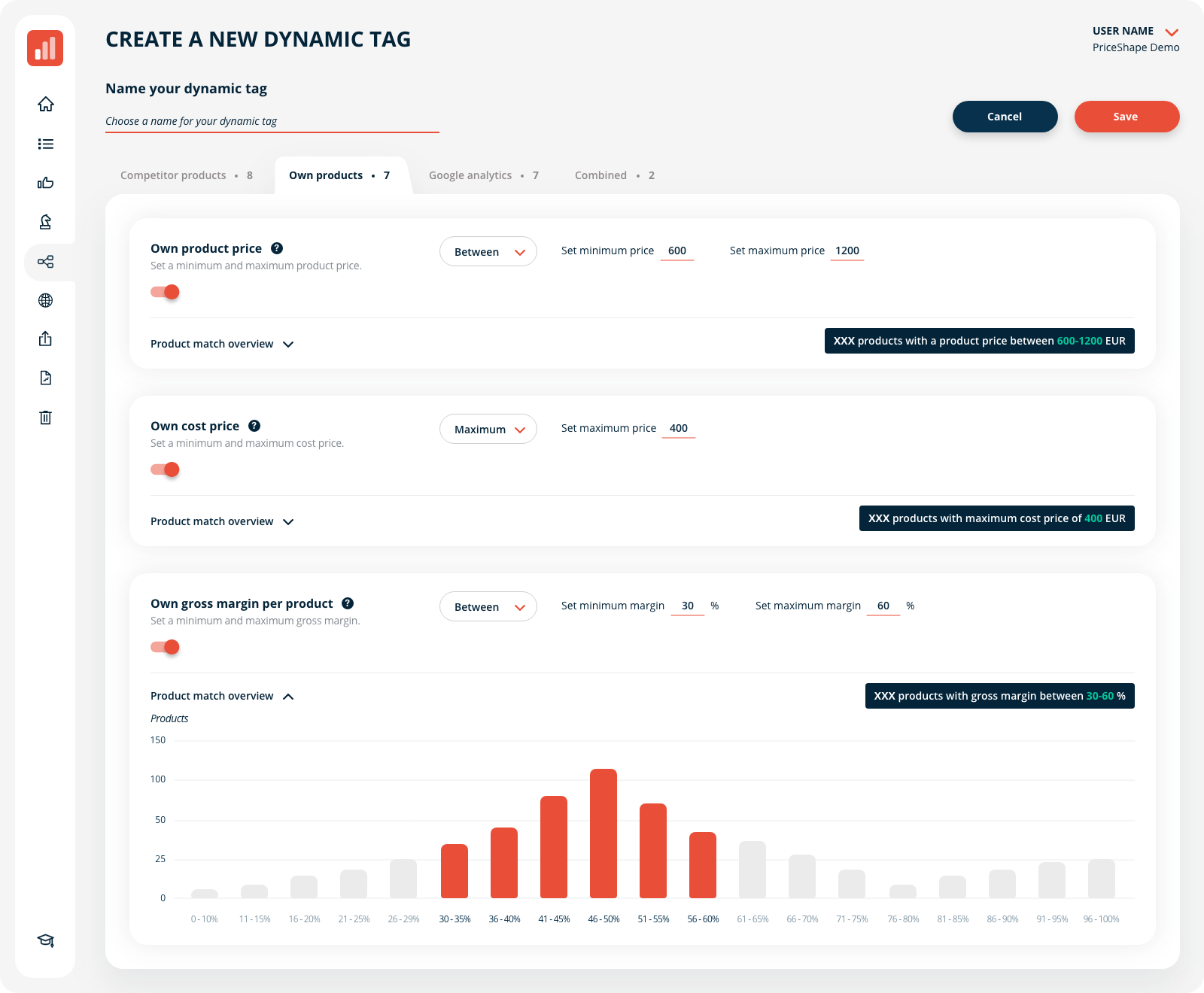 Performance Insight
Make it automated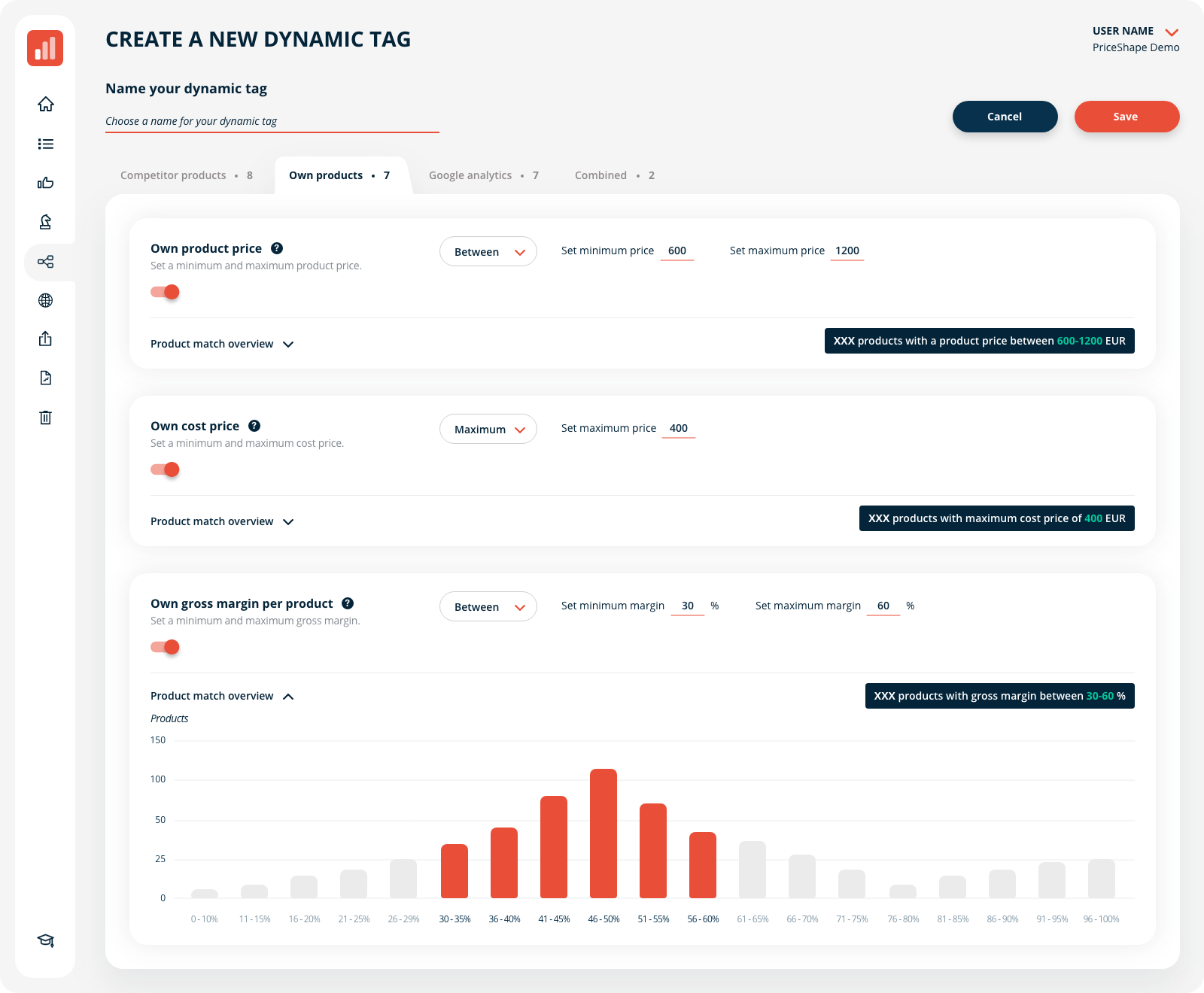 Imagine if you were able to identify hidden associations within your product categories and brands, associations that would allow you to optimize these specific product based on particular patterns. In PriceShape, you can group your products based on values driven by your Performance, your product information, and the market.
Imagine, for instance, that you would like to raise the price of products where you have a constant flow of orders and visitors. Group products with these values and combine them with a specific Gross Margin, use that grouping in a PriceStrategy, and let the magic happen, automatically products that are your traffic creators will increase by 1 or 2% in price to provide you with a high intake of profit in the long run.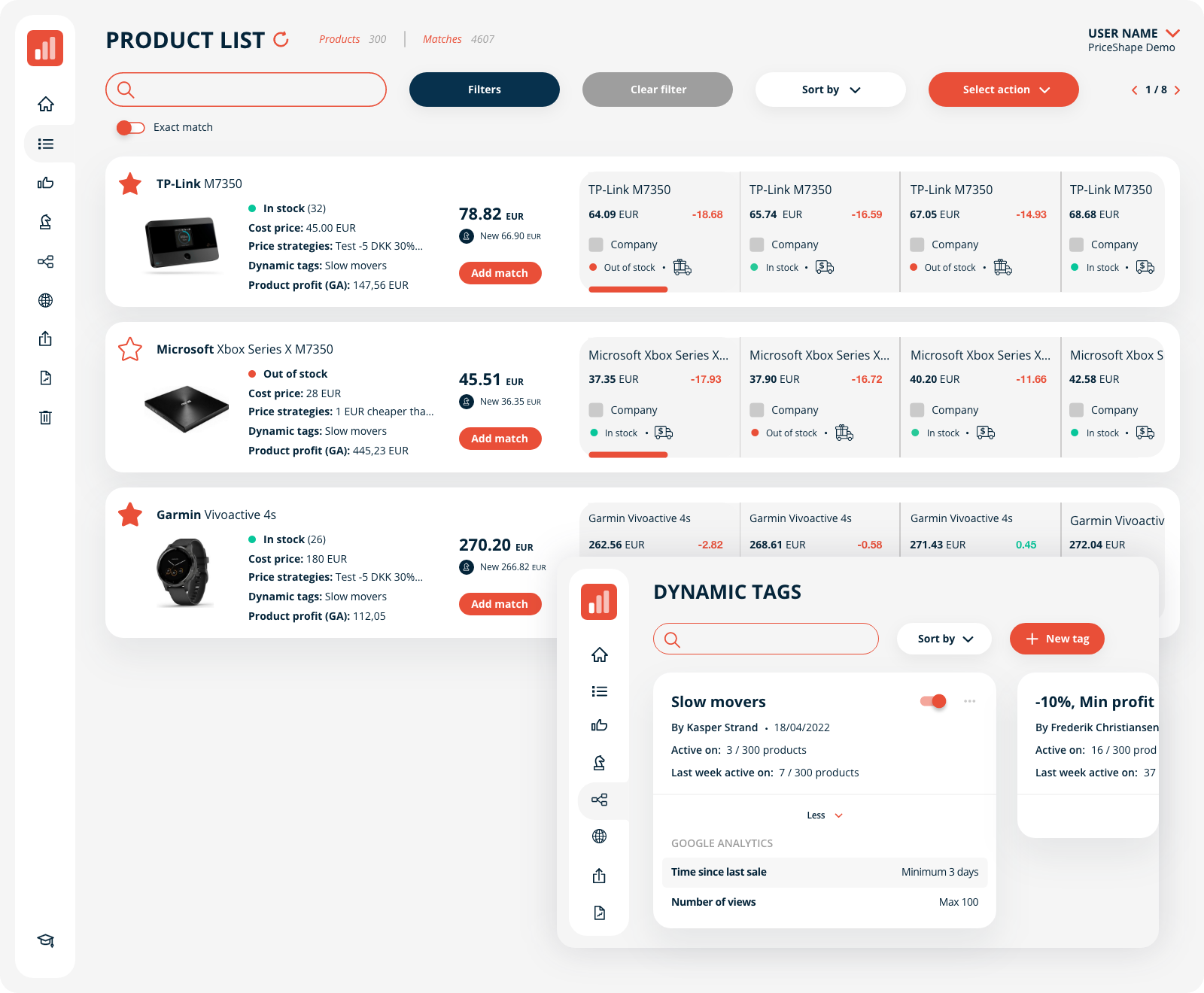 Performance Insights
Find the correct stories about your products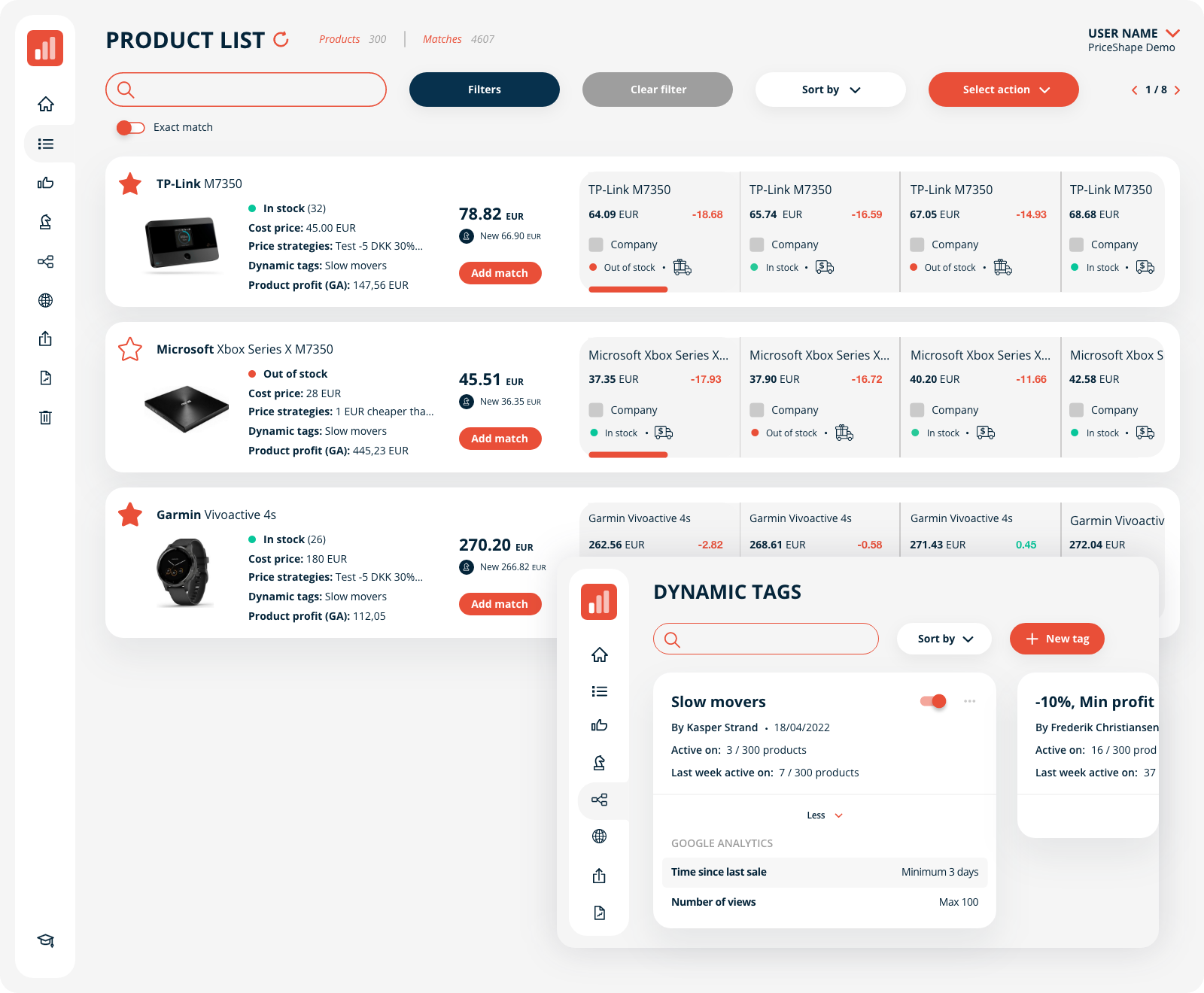 With PriceShape and insights from your performance, you will be able to change your way of defining price strategies and move your focus from a brand and category specific strategy to a more productive behaviour and performance based pricing strategy.
Group your slow movers to raise the turnover rate in the warehouse by knowing the speed at which the products are moving combined with stock status. Identify your A-products by knowing your conversion rate and revenue compared with the market competition level.

Make decisions based on facts rather than guts. Highlight the products where you need to lower your prices to be competitive and which to raise to gain profit. All by combining performance data with insights from the market.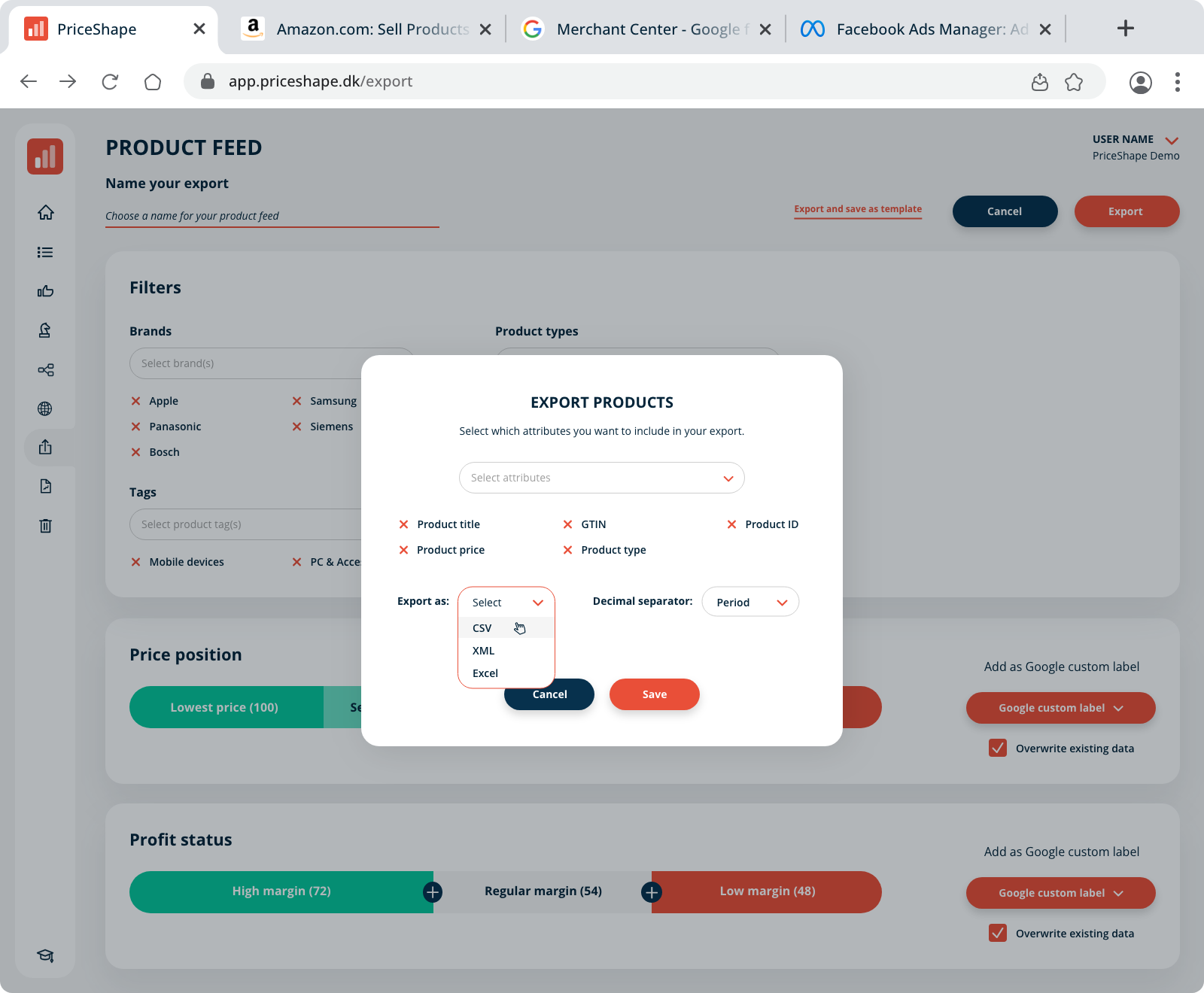 Performance Insight
Combine your performance insights, for marketing purposes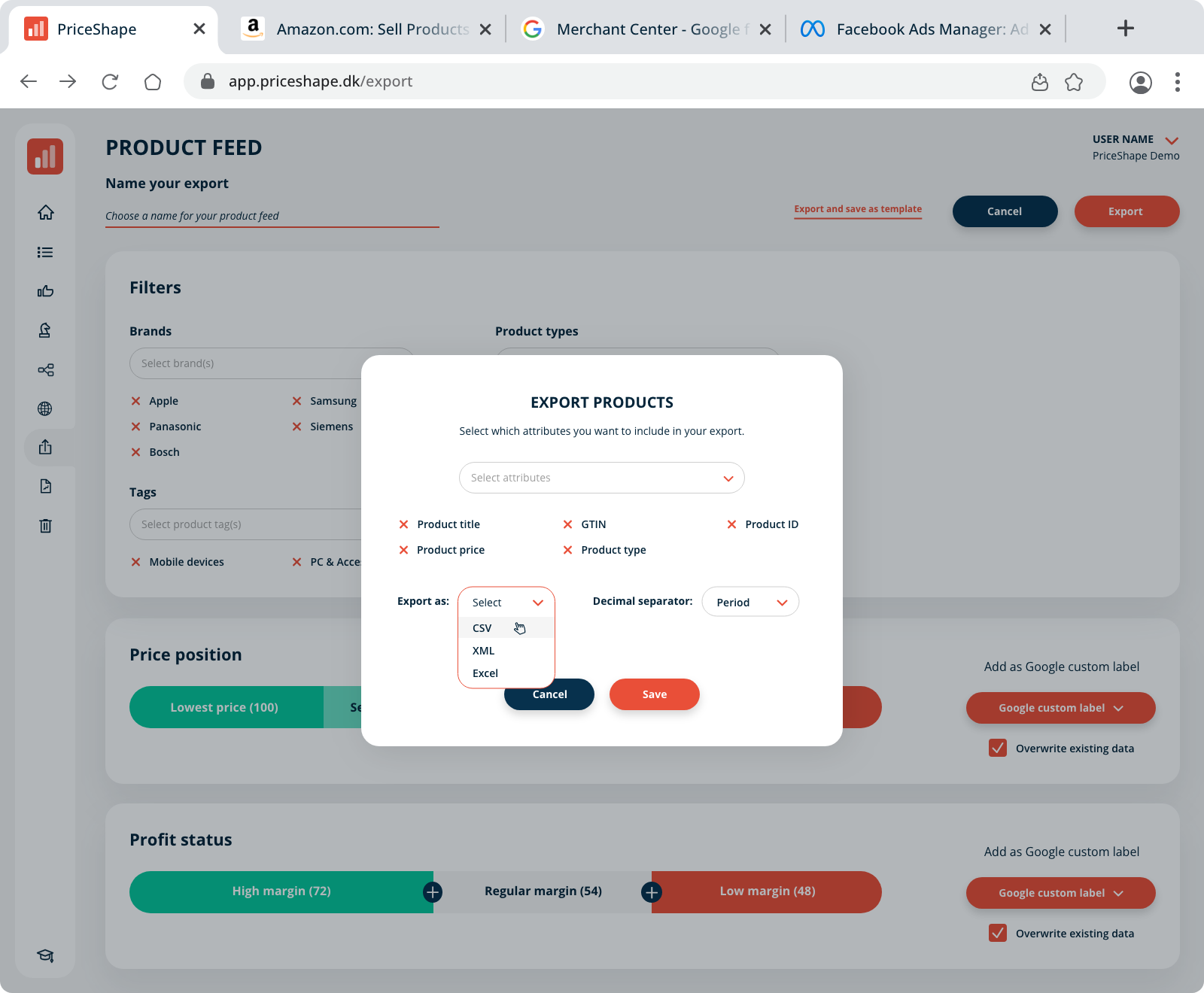 Optimizing your ROAS based on product price position and profits is one thing, but why not use PriceShape and your GA insights to group the products you are most likely to convert or the products with the most potential for conversion?
But perhaps it just needs attention in terms of marketing. Grouping products based on the proper intel will allow you to showcase that grouping in a feed. Use this feed for e.g. Facebook ads or other new campaigns that can ensure that both sales and profit will rise through the roof.
Newsletter
Stay up to date with PriceShape's newsletter
You can expect lots of cool content and updates in our newsletter, such as free webinars and blogs. We strive to share our knowledge and inform people about pricing and trends in the world of e-commerce.
Dynamic Pricing
Automate your pricing and stay on top of the market and your competitors!
Product Management
Take your product management to the next level. Understand the market, and your product's behavior and analyze data in near-real time.
Succeed with PriceShape
Meet our Customer Success Team, who will care of you and ensure you experience the value you expect from PriceShape.