Final Preparations For Winning Black Friday 2021 [eBook]
Here are some last-minute Black Friday price strategies that a super easy to implement that will enable you to win Black Friday 2021 and beyond.
Whilst it would be amazing if webshops could implement a simple 'silver bullet' solution that magically solves all problems and takes your strategy to the next level, ecommerce is quite often about small margins. It's the small changes that companies make that, over time, give them the edge and the all important competitive advantage that all businesses, regardless of industry, are searching for.
If you've been preparing for Black Friday 2021 for quite some time then you're probably thinking that it's too late to make any drastic changes to your strategy. It would quite rightly be madness to go back to the drawing board at this late stage, so that's why we've created a guide that contains a handful of easy-to-implement, last-minute strategies that can help you to not only win Black Friday 2021, but give you a competitive advantage to ensure future success.
Ebook Summary

[subscribe_form]

Here's a brief summary of the points and research that we expand on in our brand new guide for winning Black Friday this year, which contains actionable insights.
How Important is Free Shipping on Black Friday? (Spoiler Alert: It's VERY Important)
If you're thinking that price promotions and time-limited sales are the only deciding factors when it comes to Black Friday, you'd be wrong. I was as surprised as anyone, but when I did some digging I found a study commissioned by the National Research Federation in the US which showed that almost half of people surveyed listed free shipping as the key factor influencing their purchase decision on Black Friday.

The simple answer to this would be to offer free shipping, right? That's one option, but then you're further eroding your profit margin which has already taken a hit from the discounts being offered. We outline exactly how you can identify products where you're priced too cheaply, so you can increase your prices to the point where you're still the cheapest and highly likely to still win the sale, but you can then use this extra revenue that's generated to offset the free shipping.
Black Friday 2020 Analysis

[blog_content title="What we will cover in this article:"]
Ebook summary,
How Important is Free Shipping on Black Friday?,
Black Friday 2020 Analysis,
Using Data to Predict Black Friday 2022
[/blog_content]

Although Black Friday started out as a single day of madness (we've all seen the scenes of early-morning shoppers in the US storming Walmart to get their hands on cheap TVs, right?) it has evolved and morphed into what could now be considered more of a season.
We looked at the reasons for this, and how and why the COVID-19 pandemic and the associated issues with supply chains around the world will impact ecommerce
Shipping bottlenecks and labor shortages are slowing global trade, but it appears that shopping habits are in sync with these challenges as the share of consumers who planned to do most of their shopping on Black Friday plummeted from 59% in 2015 to 36% in 2020, showing that consumers expect bargains far earlier, and much later, than just the single day itself.
Using Data to Predict Black Friday 2022
What if there was a way to accurately predict Black Friday 2022 well in advance based on hard data. That has the potential to be a game changer, right?
Big Data is transforming lots of industries, and ecommerce is no exception. And, as we've seen above with our assumptions about price being the key motivator for purchases on Black Friday, if there are other core factors that we're also overlooking, or are getting wrong, then the very foundations on which we build our businesses or campaigns could be flawed.
Being able to make judgements that are based on data that's been collected, collated and presented in a way that's easy to interpret takes the guesswork out of key decisions that have to be made.
Unfortunately, we don't have a crystal ball that can see into the future, but we do have the next best thing - a PriceShape feature that finds, tracks, and stores all of your competitors' price changes. Having access to this data is incredibly useful at all times, but even more so for specific periods where there are lots of price changes, such as Black Friday.
How to Boost Google Shopping ROAS on Black Friday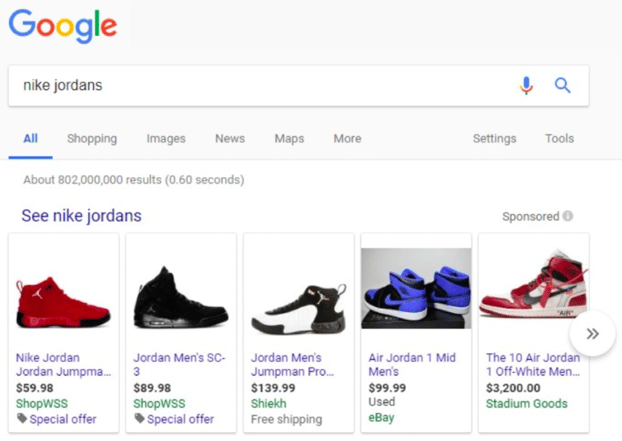 Google Shopping has fast become one of the most popular ad formats for retail advertisers, with visitors who click on Shopping ads having a higher chance of conversion as they already know what the product looks like and how much it'll cost.
On Black Friday it's extremely important that the products that you choose to offer discounts on are not under exposed to your audience, but a 'one-size-fits-all' approach will leave you burning through your ad budget in no time as you'll be paying for clicks where you aren't able to compete on price.
Our guide lays out how you can have a more nuanced approach to your Google Shopping campaigns on Black Friday by segmenting your products based on where you're the absolute cheapest, semi-competitive, and for example, 20% more expensive.
Using Google Shopping's custom labels, you'll be able to directly target your ad spend towards products where you know you're the cheapest and have a high chance of converting visitors into customers - dramatically improving your Black Friday ROAS and squeezing the maximum out of your ad spend.
Download our guide to find out more about the topics discussed above. The guide also details how you can implement these straightforward changes to gain a competitive advantage for one of the busiest periods of the year.