Top 6 strategies to lower cart abandonment - PriceShape
Top 6 strategies to lower cart abandonment
There's no question about it. Shopping cart abandonment costs retailers an uncomfortable amount in lost sales — in some cases it is even more than actual earned gains.

According to recent numbers from Sleeknote, e-commerce brands lose approx. $18 billion in sales revenue each year because of cart abandonment. The average cart abandonment rate across all industries is 69.57 %. And mobile users have the highest abandonment rate of 85.65% - really putting the 'mobile first' approach to the test.


What we will cover in this article
Shopping cart abandonment rate
Mobile optimization
Checkout optimization
Cost optimization
Follow-up emails
Re-targeting ads
This makes shopping cart abandonment one of the biggest problems all e-commerce company owners face. And naturally it is individual for each business what will 'do the trick' and make customers finish their checkout process.

And while we are ripping off the band-aid; we as marketers can unfortunately not solve every reason for cart abandonment. Some factors are simply out of our control, such as humans just being humans.

That being said, there are plenty of important steps we can take to lower cart abandonment! And here at PriceShape we naturally have a few extra aces up our sleeve to will help reduce your cart abandonment rates drastically.

So keep reading, if you want the intel on 6 of the most effective and easy strategies that will lower your cart abandonment and increase sales!
Mobile optimization
We have heard it multiple times 'mobile first', yet one of the big sinners when it comes to abandoned carts is the mobile. In fact, mobile users have one of the highest abandonment rWe have heard it multiple times: 'mobile first'. Yet one of the big sinners when it comes to abandoned carts is the mobile. In fact, mobile users have one of the highest abandonment rates of a whopping 85.65%.

One of the big obstacles for mobile-users is entering their personal information. In fact 39% of mobile users abandoned their cart because they experienced difficulty entering their personal details. Thus putting some truth to Barilliance's "The smaller the size of the screen, the more likely a customer is to not purchase".

This is problematic considering that more digital buyers will use smartphones rather than desktops when they're shopping. Simultaneously, this also goes to show the importance of fully optimizing your e-commerce for mobile users if you want to convert.

Depending on the issues your users are experiencing, we recommend that you try to combat your abandoned mobile carts, by: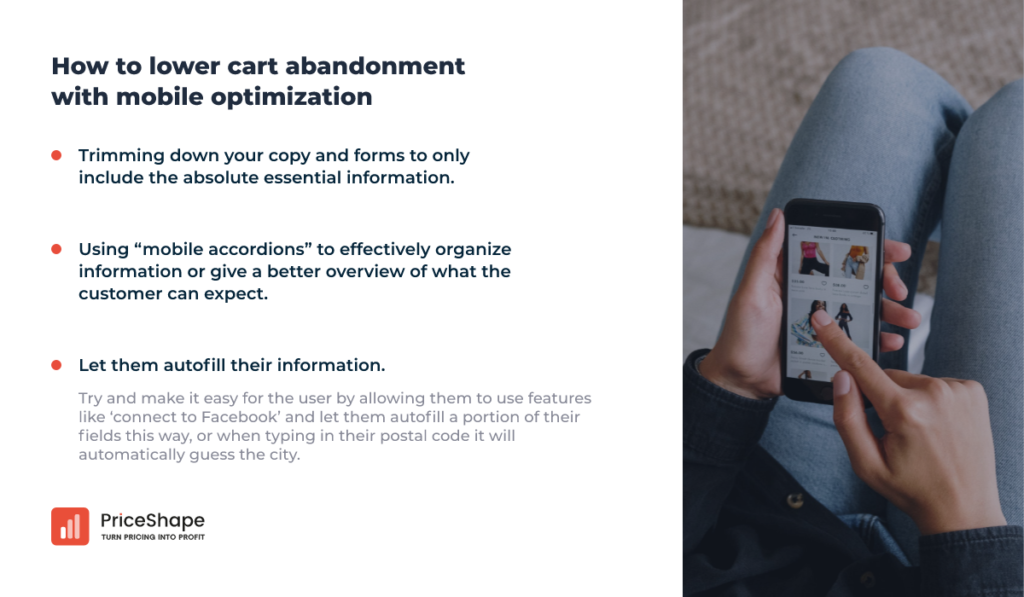 Checkout optimization
Some of the obstacles that increase the chances that your customers leave their cart are found during the checkout process. Baymard reported that 24% of customers left their cart when "the site wanted me to create an account". Moreover, 17% said that a too long and/or complicated checkout process makes them leave their cart. And 9% said that there weren't enough payment methods.
The checkout landing page and process is the most critical part of your customers journey. There is no need nor room to make it anything less than a friction-free and user-friendly experience. And optimizing your checkout point is well worth the effort and time. By optimizing your checkout you can increase conversions by up to 35.62%! Some of the things you can do to optimize the checkout experience for customers are: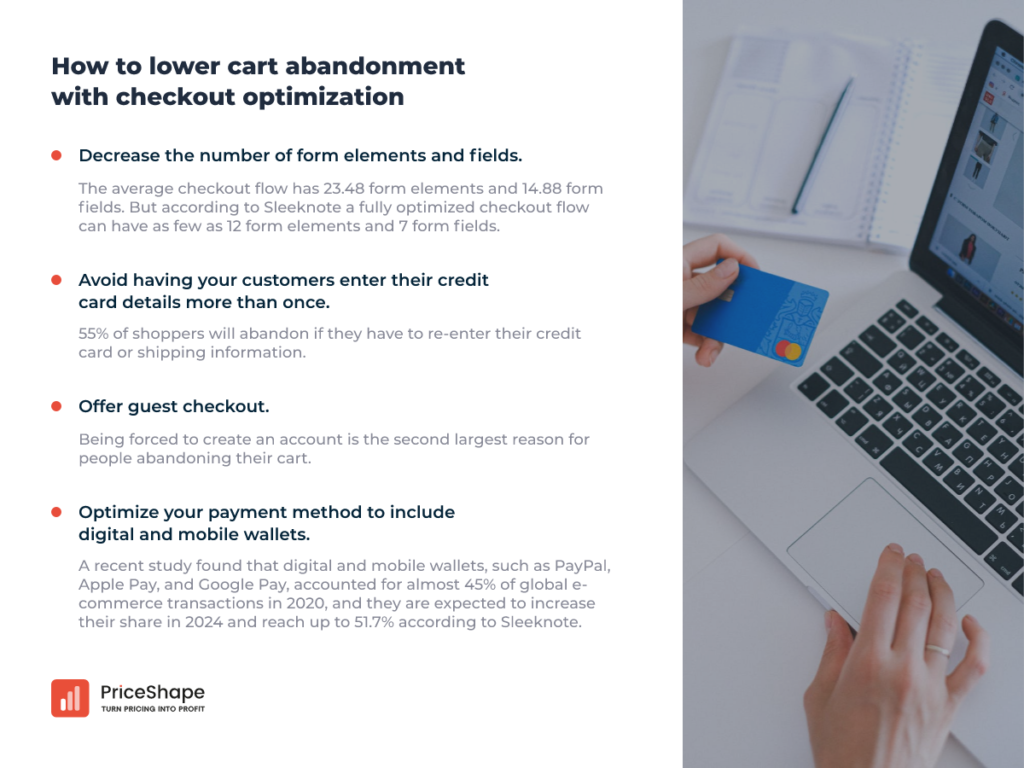 Costs optimization
Baymard reported that 16% of their respondents said that they couldn't see and/or calculate total order cost up-front, which in itself is very problematic. But in reality extra costs such as taxes, shipping, fees etc., is the number 1 reason for consumers abandoning their cart during checkout. Consumers expect that what they see is what they get, and there will be no surprises once they hit 'go to checkout'. And considering that 53% of people around the world shop online because of free delivery, you can imagine why extra costs are the biggest reason for cart abandonment.
A natural solution to this could be retailers and brands covering these extra costs themselves, and recouping the loss of revenue by increasing their prices. However, this isn't always possible due to external factors such as Brexit. Additionally, is an increase in price not something that should be done without a foundation of proper market data and insights.

Free delivery is an incredibly important factor for consumers when it comes to shopping online, and it should be one of the first things you look into when you want to lower your cart abandonment. It would be a mistake not to, to put it bluntly.

Something you should consider, is if your delivery costs should be internalized and added to the price of your products. Here it is important that you make sure you are informed about how much your competitors are charging for delivery.

Another thing is Google Shopping. 68% of online shoppers search a product on Google before purchasing, making Google Shopping an important part of your e-com strategy.

If a consumer Googles 'black dress' Google presents the delivery costs as well as the product costs for each product. This way consumers can easily see which retailers offer free delivery, who has the highest delivery costs, while also allowing consumers to filter products by 'free delivery'. So, even if you're the cheapest on the market in terms of the price on the product, you may not win the sale due to shipping charges.

At PriceShape, as well as monitoring your competitors' prices – and allowing you to create dynamic price rules – we also monitor your competitors' delivery charges. This means you're able to take this information into account when creating your price strategies to maximize revenue and win more sales - or you can let the software intelligence do it for you.

Winning more sales is not about being the cheapest one. It's about being competitive. You might be able to increase your prices on certain products and still be the most competitive on the market and win sales - and without even knowing it. All you need is actual and real insights on your competitors and the market and this is exactly what PriceShape is all about.

This data also helps you to understand if you should relocate your marketing budget to certain product campaigns, as you'll be able to identify on which product(s) you are the most competitive across the market, thus helping you win more sales that are healthy for your business.
Follow-up emails
Another way to mitigate cart abandonment is to send follow up 'abandoned cart' emails. According to Moosend, abandoned cart emails have an average open rate of 45%. Moreover, did the abandoned cart emails included in that study also have a 21% click-through rate and half of those clicks resulted in purchases.

According to Campaign Monitor the average email open rate is at 18%, so alongside continually optimizing your website for conversion, spending time pursuing consumers who abandoned their cart through e-mail is a highly effective tactic.

When a customer is adding your product to their cart it shows a high level of buyer intent, but if they don't continue to purchase, abandoned cart emails can help you. Here it is common practice and necessary to offer the consumer additional value such as special discounts or free shipping to entice them into completing their purchase, which makes us loop back to the fact that free delivery is why 53% of people around the world shop online.
If you want to support your abandoned cart emails or help avoid having to send them out too often, there are two kinds of emails-action you could send out too. One of them is an out-of-stock email to your subscribers letting them know when their desired items are back in stock. A good example of this email can be found at the luxury webshop, MyTheresa, which has taken full ownership of these emails, and lets their customers sign up to receive updates on products in their size and color. The second one incentivizes high-value orders with a free and fast delivery option.
Retargeting ads
When we covered how price optimization could help you lower your cart abandonment rate, we briefly mentioned that having an overview of your competitors' prices and delivery charges helps you understand and identify with which product(s) you are the most competitive in the market. This is data that can help you relocate your budget towards those campaigns, where you win the most sales that are healthy for your business.
But these insights or data can also be used for retargeting. Using retargeted ads can send 26% of shoppers back to your site, but personalizing retargeted ads such as with previously viewed products or abandoned cart products, can lead to an ROI of Over 1,300%.
The initiatives are many across the customer's buying journey, but most crucial are those that involve the last step before a customer makes a purchase. Fortunately, most are easy to take action today. Therefore, we recommend that you try to test the initiatives that seem natural and logical to your business; maybe it's enough to adjust your existing setup - or maybe you need to implement new tactics / initiatives.

[subscribe_form]